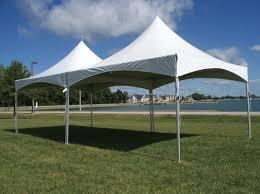 20ft X 40ft White 2-Piece Hi Peak White Tent
Actual Size: 20 X 40
Setup Area: 25 X 50





$949.00

Please call 219-887-9644 to reserve this item.

Introducing our 20ft X 40ft 2-Piece Hi Peak White Tent, the perfect solution for your outdoor event needs. This tent is made with high-quality materials and is designed to provide a spacious and elegant atmosphere for any occasion. The 2-piece design allows for easy setup and customization to fit your specific event needs.
The Hi Peak design adds a touch of sophistication and elegance to your outdoor event, making it the perfect choice for weddings, corporate events, trade shows, and more. The tent is made with durable materials that are weather-resistant, ensuring that your event will be protected from the elements.
The 20ft X 40ft size provides ample space for a large gathering of people, while the white color adds a clean and classic look to your event. The tent is also equipped with windows for natural light and ventilation, creating a comfortable and inviting atmosphere.
With its easy setup and customizable design, the 20ft X 40ft 2-Piece Hi Peak White Tent is the perfect solution for any outdoor event. Trust us to provide you with the highest quality products and exceptional customer service.