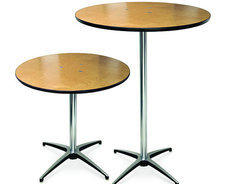 30in Round Hi-boy / cafe' table




$14.00

Please call 219-887-9644 to reserve this item.

These cocktail tables can be set up as a hi-top (42") or at a standard cafe' (30"). Table tops are 30" round. We recommend using either our Kwik Covers or 108" round (to stay above the ground 1-2") or 120" round (to use a swag) tablecloths.
The 30" Round Hi-boy / Cafe' Table is a versatile and stylish addition to any event space or dining area. With its sleek and modern design, this table is perfect for both formal and casual settings. The table's height is ideal for standing events, making it a great option for cocktail parties, receptions, and networking events. The round shape of the table encourages conversation and socializing, while the sturdy construction ensures that it can withstand heavy use. Available in a variety of finishes and materials, the 30" Round Hi-boy / Cafe' Table is a practical and attractive choice for any space.