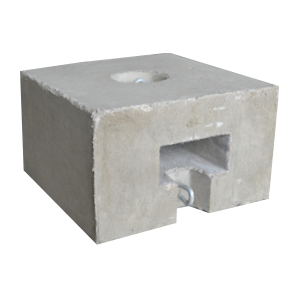 500 Pound Concrete Block




$35.00

Please call 219-887-9644 to reserve this item.

Concrete blocks for tent ballast. At least one block required at each tent pole.Current ASTM standard for tent ballast is 10 pounds per square foot of tent space. For example, a 20X20 tent is 400 sqft. This tent will require 4000 pounds of ballast. Calculations below are for 500 pounds blocks.
10X10 = 100sqft / 4 blocks
10X20 = 200sqft / 4 blocks
15X15 = 225sqft / 4+ blocks
15X30 = 450sqft / 6+ blocks
20X20 = 400sqft / 8 blocks
20X30 = 600sqft / 10+ blocks
20X40 = 800sqft / 16 blocks
30X30 = 900sqft / 18 blocks
30X45 / 1350sqft / 27 blocks
30X60 / 1800sqft / 36 blocks