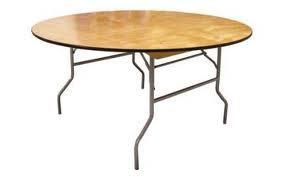 60in (5ft) round table
A 5ft round table is the perfect addition to any event or gathering. With a diameter of 5ft, this table provides ample space for up to 8 people to comfortably sit and enjoy a meal or conversation. Made from high-quality materials, these tables are durable and sturdy, ensuring they can withstand frequent use. Whether you're hosting a wedding reception, corporate event, or family gathering, a 5ft round table is a versatile and practical choice. Choose from a variety of styles and finishes to find the perfect table to complement your decor and meet your needs. With its classic design and functionality, a 5ft round table is a must-have for any event planner or homeowner looking to create a welcoming and stylish space.
Up to 5 - 5' round tables fit under each 20 X 20 tent. Each table seats 8 adults comfortably. Order 8 chairs for each 5' round table.