Table linens & Kwik Covers

Table linens and Kwik Covers are an effective way to add color to your event.

Our Kwik Covers are easy to install and look great. Best of all, they stay in place even when the wind blows. Each Kwik Cover has elastic sewn into the edges. They fit on our tables like a fitted sheet on a mattress.

Our table linens come in many different styles, sizes, and colors. Our inventory is constantly growing so if you want something you don't see please call us.

Choice Linens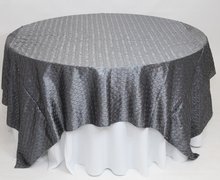 Kwik Covers