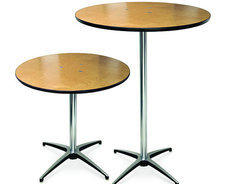 36" Round Hi-boy / cafe' table




$14.00

Please call 219-887-9644 to reserve this item.

These cocktail tables can be set up as a hi-top (42") or at a standard cafe' (30"). Table tops are 30" round. We recommend using either our Kwik Covers or 108" round (to stay above the ground 1-2") or 120" round (to use a swag) tablecloths.